How my Inner Wolf helped me transform my insecurities and fully embrace my inherent goodness.
Moon Ceremony this month was just incredible, and, holy cow it brought up a LOT. 
The days leading up to Moon Circle I could feel my thoughts - I was not present, I was swimming in the possibilities of the future playing the scenes of what could happen over and over and over again in my mind. It was maddening. 
In Your Ruby Lifed, the course I teach on manifestation, I talk about how no matter what, you will be rehearsing images of SOMETHING, it's what our brains are wired to do and you simply cannot turn this off. SO! Once I realized I was rehearsing all the possibilities that were not to my preference I refocused my thoughts and chose one image - the smiling faces of the womxn at circle, grateful for the experience, feeling held, loved and seen. Each time I noticed my thoughts going into "what if" I caused myself to see those smiling faces again and eventually…. After a couple (dozen) redirects… I was able to be present with what I was doing.
Once the anxieties of "what if" were loved into quiet, an idea struck! It's the WOLF MOON! I want to howl at the moon with my Sistxr pack! (Note - the anxieties had to be addressed before this idea could land. Insight has nowhere to land when we are contracted in fear, it's like reducing the size of a landing strip to the size of a dime!) I channeled a whole meditation around shedding our human skin and stepping into our wolf. Running together through the snow, feeling the wind on our faces, the intense scents we could smell with our wolf noses, looking at our reflection in the water to see what our wolf colorings are, and finally meeting together in a circle under the light of the moon feeling our voices pulled by the Great Mother in a howl of togetherness. It felt SO RIGHT.
As the day got closer the questioning started. And got louder…. And louder…… and louder.
What if no one wants to do this?
Will I be the only one howling?
Oh my God, is this stupid?
Will it disrupt the calm, quiet of the meditation?
What will I look like if I'm the only one howling?
Will they feel safe enough to let it rip?
What if there are people outside of the building watching, will that deter my sistxrs from howling?
One thought after another of why this isn't a good idea really started to roll in. 
*Awareness Tip: when thoughts of insecurity really start rolling in, you're onto something JUICY!*
I was aware of the thoughts enough to recognize that I was nervous and uncomfortable, and, I didn't give them enough attention to redirect them the way I did when I shifted my worry to seeing the smiling faces of my sistxrs. So, they festered and I didn't even know it.
As I wrote out a little outline of the ceremony plan, here's how I wrote this portion:
"Final Meditation - Turn into a Wolf - find our pack - howl?"
I have so much training with my mentor, Felicia Searcy, around making conscious decisions knowing that it is when we decide on something that we then take action steps. Indecision is the crusher of dreams! And still, the paradigm won out.
That night, before ceremony, I pulled a card from my Threads of Fate Oracle Deck to guide me for the evening. The card?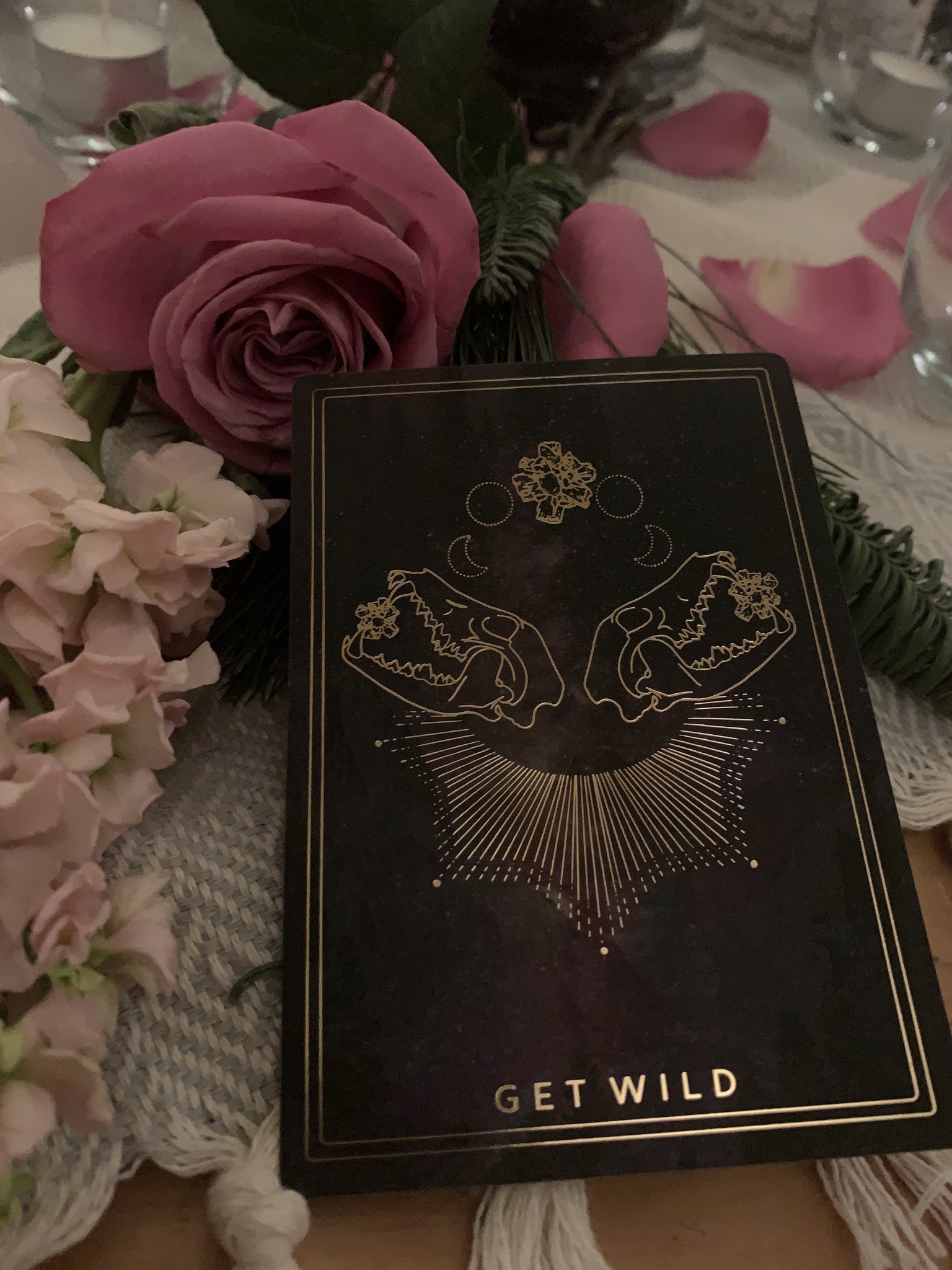 GET WILD - as you can see, this card has moons above the skulls of Wolves. I laughed feeling the confirmation that it's okay to lead this group of womxn to howl at the moon tonight. And, would you believe I was STILL undecided? That's the power of the paradigm.
Then, the time came. We were in our final, closing meditation. In wolf form we found each other under the light of the moon. In the meditation we saw each other howling, I could feel the push to invite them to physically howl, and still I questioned it and chose not to honor this voice. As we closed meditation and everyone started gathering their things one sistxr said: 
"Wow, I really thought you were going to have us howl!" 
I had a mental forehead-slapping moment, tilted my head back, felt the build up from my belly travel up and into my throat and howled my heart out and as soon as I did the entire room erupted into howls from nearly every womxn there. 
I will admit, I'm still processing some feelings of regret for not trusting my inner knowing, and, I recognize that this was about so much more than that. The fears I had were disguised as feeling like the idea to howl, itself, was stupid. And, it was ME who channeled that idea. Underneath it all, the true fear was that I am stupid, that I am nothing, I am unworthy, I am a stain on the existence of humankind and therefore every idea that funnels through me is nothing, unworthy and a stain.
Conceptually I know this isn't accurate. These beliefs don't belong to me. They were given to me by very well meaning people who loved me and did the best they could to support me while I grew up. They don't belong to me, and still, they're my responsibility to transform. So, as I continue to stare down these fears, these insecurities and thoughts, I ground my goodness more and more beyond the conceptual and into a deep sense of knowing. 
Thank you to my Sistxrs for howling with me. Thank you to everyone who really showed up so beautifully and fully that evening, you are absolutely sacred and I am deeply honored to have the gift of spending this time with you. 
Did this sharing support you in identifying your own insecurities and questioning of your inherent goodness? I would love to know how in the comments. Your feedback gives me the fuel to keep writing. 
If you'd like to learn more about our upcoming Moon Ceremonies and other events, all info is HERE, we will be holding a space for your presence in our hearts. Here is the altar I channeled for the Wolf Moon!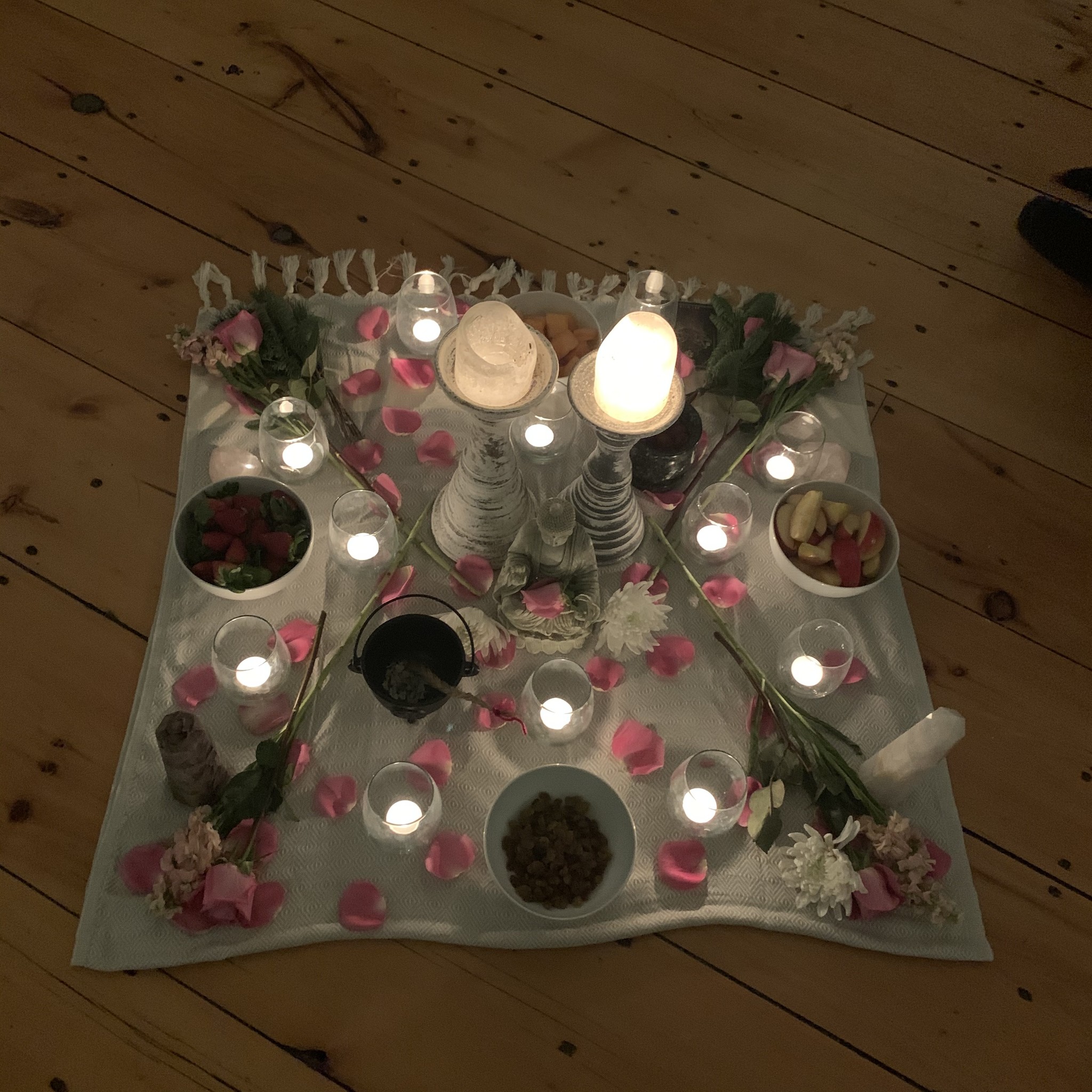 If you would like support on transforming your own inner voice of self-hatred, create an account with us HERE and we will notify you as soon as open enrollment begins for Unapologetic Womxn, our online Witchy/Goddess Sistxrhood led by Becky.